I made this polka dot skirt specifically to go with my second attempt at a Linden Sweatshirt. My first attempt was here. I've had this novelty material that I got from Fabric.com for quite awhile. It's such a fun fabric. It's puckered, so it not only has some pattern, but also texture. It makes a great skirt.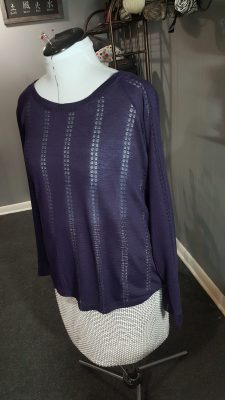 I didn't use a pattern for this, because the fabric has quite a bit of stretch to it. I just traced a skirt I already had. Using that well-fitting skirt, I traced both the outer fabric and and inner fabric for lining. I probably didn't need it, but it seemed like the interior of the puckered fabric might get a bit annoying. Then I just sewed it all together with an elastic waist. I have been wanting a polka dot skirt for so long and this one is super cute.
The linden sweatshirt I made to go along with the skirt is in a vibrant purple fabric with a laser-cut design. It's pretty see through, so I usually wear a black tank underneath it. When I made this one, I decided not to use the waistband. I had initially intended not to use the wristbands either, but I didn't cut the sleeves long enough, so I ended up using those. Definitely an error on my part. When I cut the pattern, I lengthened it a bit to compensate for the lack of the waistband.
I love the way the purple looks with the black and white colors of the skirt. It was a really good color pairing. I have a few issue with the shirt fabric, and it could just be me. I wear this shirt A LOT! I've noticed that I'm starting to get those little fuzzies on the wristbands. Keep in mind, however, I work in an office and spend a great deal of time at my desk. There is constant rubbing on both paper and my desk. Also, while I did pre-wash the fabric, I feel like this shirt is shrinking with every wash. Of course, this could just be the mass quantities of snacks that come through my department. I'm choosing to believe the fabric is shrinking. 🙂 Below are some additional pictures of both the skirt and the Linden Sweatshirt.
Tomorrow is my birthday, so I'm treating myself to a day of sewing….mainly because I'm getting my house ready to sell and I'll be working like a dog for the next few weeks. Cheers to all on this snowy Erie day. 🙂