I made this wool coat from Vogue VP946. It's one of the patterns marked "Easy" and it totally would have been if I had used a fabric that wasn't so loosely woven. lol That's my fault. I was completely in love with this wool coating that I picked up on sale a couple of years ago from Fabric.com. I'm still in love with it, and I wish I would have saved it to make my long coat that I so badly need.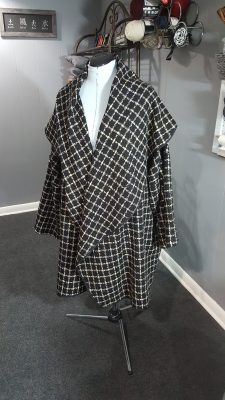 You absolutely cannot live in Erie, PA without a warm coat. This is one of the top 10 snowiest cities in the U.S. We make the list every year. Right now I'm parking in a garage that is across the street from my office building. It's by no means a long walk, but when you cross the street, the wind comes right up off of the lake and takes your breath away. Seriously, it ridiculous. It's even worse at 8:15 in the morning when you haven't had coffee yet. Yes, I'm whiner…I'll freely admit it.
Anyway, I picked up this lovely coating and have been dying to use it. I picked up Vogue VP946 at Joann Fabrics on one of my Friday night happy hour trips. You spend happy hour your way, I'll spend it mine. 🙂 I had thought to use one of their Platitudes that was on sale, but I figured since I already had this, I'd give it a try.
I didn't think the directions were all that great, but I ended up figuring it out. It looks super cute with leggings and boots and I've gotten a million compliments on it. As I mentioned, the fabric is very loosely woven, so I couldn't leave the edges raw. I ended up serging them and then using a bias tape to cover the serged edges. It made for a nice trim.
Here are a few pics. Stay tuned for my next coat attempt. I'm getting ready to order some more coating from Fabric.com so I can make a long wool coat. It will probably be ankle length. I've been considering different patterns for awhile, because that walk across the street is absolute torture when you're wearing a skirt. 🙂