The Linden Sweatshirt pattern is one of my new favorites. I've made it in a couple of different colors so far and I absolutely love it. It doesn't take very long to make, and its look can be changed easily.
I came across this pattern while surfing the web. There was a sew along going on, and I wanted to join immediately. Unfortunately, life got in the way, and the sew along is long since over, but LOVE the pattern.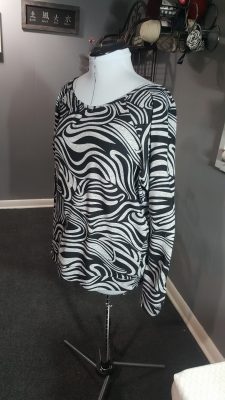 I found the neck band a bit tricky, but it looks pretty good from afar. lol You're basically cutting eight pieces. There are pieces for the front, back, two sleeves, two wristbands, neckband, and waistband. I like the bands because they're not particularly tight. That drives me crazy, when they're too tight. Because these bands aren't right, the drape of the shirt is very flattering. It doesn't have that unflattering cupping underneath the bum. lol
What I really love about the Linden Sweatshirt is it's versatility. Just changing the fabric or combination of fabric, can completely change the look. I've seen how some people widened the neckline or left off the wrist and waistband. It can go from a very casual sweatshirt to something you can wear to the office. I pair this one with a black skirt and a pair of boots and wear it to work. It's just right for a relaxed work environment.
On a future version of this, I plan to lengthen it so I can wear it with leggings and boots. I've seen a couple of other blogs with photos of this and it really looks great. Erie is ridiculous cold in the winter, so leggings and boots are almost my standard uniform once the snow hits. Hopefully, I'll get a few of these made before that happens. 🙂