This fat quarter bag was a Sunday morning impulse make a couple of months ago. I started it first thing in the morning, took a break to mow the lawn, and then finished it up later that day. It's not a complicated bag, but took longer than normal because of the extra pockets I added. I used the basic bag that I made for the Oh Sew Fun Sewing Challenge and just embellished a bit.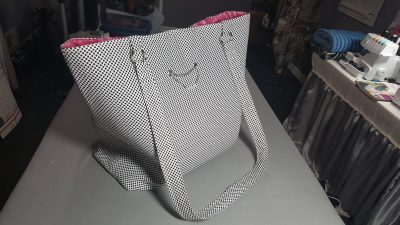 I'm trying to play catch up on all of my projects, because I am way behind. Raising a 14-year-old girl on your own is no joke people. If I make it through these teenage years, it's going to be some kind of miracle for sure.
Anyway, I started the fat quarter bag with five fat quarters… two for the exterior, two for the interior, and the leftovers I used for the straps and pockets. I ran out of pink interior fabric for the inside of the exterior flush zipper pocket I put in, so I used some pink satiny pink material I had lying around. As always, I never make a bag without my Soft and Stable from ByAnnie. Fat Quarters are from Joann Fabrics.
I put an elastic top pocket on one side of the interior and then a flush zip pocket on the other side of the interior. I added some eyelets and a chain on one side of the exterior as an embellishment. Then I put a flush zip pocket on the other side. I absolutely need the elastic pocket on the interior for my cell phone and then a zip pocket on the exterior for my keys. Whenever I run in somewhere on an errand or shopping, I like to have my keys handy. There is nothing I hate more than digging around for my keys with an arm full of things I just picked up at the store.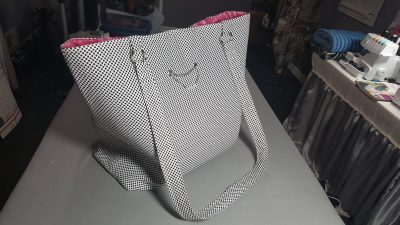 I had intended this to be a fall bag, but it ended up being more summery than I had anticipated. Still nice though and very happy with it. 🙂