I made these awesome embellished towels and felt coasters as part of the Oh Sew Fun Sewing Challenge I joined on the National Sewing Circle website. I transferred my daughter to Cyber School this past year, so I have had zero time to sew…and blog, as we can tell from the date stamps on my posts. I work a million hours at the office and then would come home and play teacher until late. Exhausting, but a definite improvement from the school that she was at.
Anyway, the felt coasters were the first project. Felt is so easy to sew with and these are super cute for summer. They would be great for a barbecue or just to use on your deck or patio in general. I made two sets and gave one to my mom. My daughter commandeered a couple of the other set. I plan to make a few more sets for when we build the deck in a few weeks.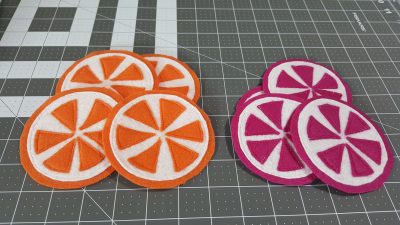 The second project was embellished towels. In this case, hand towels. Although, I think you could use any kind of towel or wash cloth, depending what you're doing. I had some white towels I bought from Walmart that I was planning to use in the downstairs bathroom. When I saw this project, I changed my mind and took the opportunity to switch out the towels in the upstairs bathroom. I had lots of left over material from the window shade I made for that bathroom, so I used it to add the embellishment to this towel. This was a quick, yet high impact, project. It literally took me about 15 minutes to add the material to the towels.
I measured the flat section of the towel to get the size for the fabric strips. Since this fabric is a silk brocade, I serged the edges before folding them under and then pressing. After that, it was just a matter of topstitching the strip to the flat section of the hand towel and hanging it up. 🙂